DJ

Dave Lawson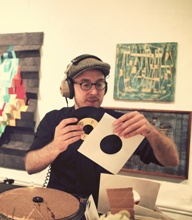 Dave Lawson is an experienced, reliable and professional DJ in the Detroit area. Over the past several years, he has DJed corporate events, fundraisers, weddings, and private parties. He can suit his music and setup based on your needs.
Though he has the ability to play any song digitally, Dave generally plays all vinyl records from his large personal collection. He specializes in feel-good Motown, soul and early r&b, but his collection also includes timeless pop hits, indie favorites, disco, funk, classic country, rock'n'roll, weirdo obscurities, and indescribable gems. Contact Dave about what you're looking for, and he can easily cater the music to whatever you'd like.
When he's not spinning records, Dave is also a producer, a musician, and a communications consultant for several businesses.