Testimonials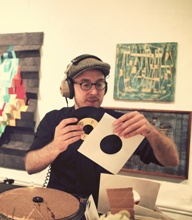 Greg and Caitlin
We hired Dave to DJ our wedding and could not have been happier! The music was amazing and we and all of our guests had a fantastic time on the dance floor. It was the perfect way to celebrate the occasion! Dave was also very flexible and friendly throughout the evening; he's the best!
Sheila and Alex
Dave - Thank you for everything last night! You were amazing and so accommodating- and your tunes kept people on the dance floor! We received so many compliments about you today! We all had so much fun! Thank you!
Lauren and Scott
Dave - I just wanted to touch base with you and tell you how amazingly happy we are that you were a part of our wedding day. All of our guests had a blast. We received so many compliments on the music selections. You were an absolute hit, and so many people told us and our parents that it was the best wedding music they've heard. :) Scott and I really do appreciate you and everything that you do!
Bob and Isabel
I heard Dave for the first time at an event at the Rustbelt Market and he was unforgettable. He was playing all of this music that I loved but had never heard. I made sure to introduce myself and get a card. My fiance and I eventually decided to hire him for our wedding, at the Rustbelt Market (very full circle)! We met with Dave one time before the wedding and felt so comfortable and assured that he would play exactly what we wanted without us having to tell him exactly what that was. He understood the type of music we loved, and considering that we are both professional musicians, this was very important to us. The fact that he plays about 90% on actual vinyl is such a major plus as well, it really adds something to the music and the experience. A group of 30 or so of our friends and family stayed very late and had a major dance party and Dave just kept it going, one song after the next; we just couldn't stop. It is one of the memories we will cherish most about our wedding day. Best dance party ever.
Katherine and Adam Brooks
Dave is undoubtedly an amazing DJ with great taste in music. We were lucky enough to have Dave DJ our wedding and reception, and he was awesome! From the very first time we met, Dave really took the time to understand both our wedding day vision and the type of music was important to us. Dave ultimately created an incredible and personalized set list that captured both what we wanted and a some fantastic surprises of his own.
During our reception he played motown and soul - all on vinyl! Our guests still tell us that it was hands down the best music they had ever heard at a wedding! It really was a great dance party, and Dave even had non-dancers doing moves that they didn't even know they could do!
Throughout the day, he went above and beyond to help with our entire event. He was one of the first people there in the morning, and one of the last to leave. Dave is extremely professional, easy going and creative, and we now consider him a friend. When he played "Save the Last Dance for Me" at the end, we were really sad that our day was over, but "oh so happy" that Dave had created the perfect soundtrack for our wedding.
Amber and Dustin Adams-Fall
My husband and I met Dave while we were vending and he was spinning records at the 2011 Detroit Urban Craft Show. We realized halfway through the first day of the event that Dave was playing all of our favorite songs, and were thrilled that he was willing to travel to Kalamazoo in June of 2012 to be our wedding DJ.
We are part of a community of musicians and artists who LOVE to dance, and every single person who attended our event told us we had the best wedding DJ they'd ever heard. Dave's classic Motown tunes were a big hit with every generation in attendance, and he was able to accommodate everyone's personal requests. Not a single song seemed out of place, and we listen to the recording Dave provided us with ALL the time. He exceeded our expectations at ever turn, and provided us with the soundtrack to the best night of our lives :-)
Dave is professional and fun and has a super rad setup that looked great amidst our reception decor. We could not have been happier with the experience he provided us, and if you are in the market for a DJ, look no further! Dave Lawson is the best there is!
Lish Dorset, Handmade Detroit
"If you need your party started, Dave Lawson is your go-to DJ. As part of Handmade Detroit, we've utilized Dave for his music know-how at the Detroit Urban Craft Fair and other crafty events. Dave never fails to find just the right songs for the audience. It's not uncommon to see shoppers dancing down the aisle as Dave starts a new record."
Carey Gustafson, The Loving Touch, Ferndale, MI
"Dave loves music and can craft a DJ set to take an audience places. He keeps people engaged without overpowering their experience and can amp it up just at the right moments. What makes him different from most is his unstoppable desire to learn about artists, songs, labels, genre, cross-overs, history, pop culture, engineering, all with his technical ear. It's been a pleasure working with Dave on a regular basis. To anyone that is willing to make music a unique element to their event, you can breathe easy if Dave Lawson is in charge as DJ!"